Architecture
Architecture: "the fundamental concepts or properties of a system in its environment embodied in its elements, their relationships, and in the principles of its design and evolution" (ISO IEEE 42010 Systems and software engineering — Architecture description )
The four most common reasons for developing a software architecture are to:
Define the guiding principles and standards. Architecture is a vision of the future, and supporting tools to help you get there.
Develop architecture models. In this case, architecture is concerned with abstracting at an appropriate level to make business and technical decisions.
Build common services. The services could be systems or organizations. Architecture can be defined as focusing on defining interfaces.
Create a roadmap to a future state, Architecture deals with transition planning activities that lead to the successful implementation of a blueprint.
Agile Architecture: Architectural practices aligned with Agile practices i.e. develop and improve the architecture rather than doing it once and creating the Big Architecture Up Front (BARF). Think Minimum Viable Architecture.
An architectural principle is a fundamental statement of belief, approach, or intent that guides the definition of an architecture. It may refer to current circumstances or to a desired future state.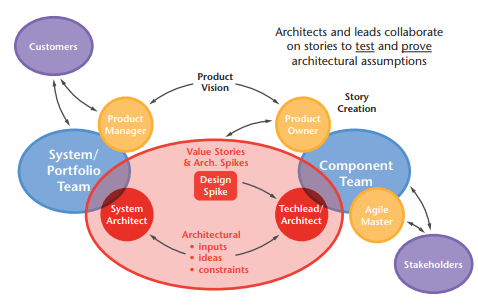 Define the guiding principles
Scaled Agile Framework (SAFe) is the most mature framework to Scale Agile across multiple teams and throughout the organisation.
Agile Architecture Overview and Context
Architecture touchpoints are highlighted in green
CI/CT architects are not highlighted here but are vital to customer solution delivery. This is spelled out explicitly in Continuous Architecture.
Go to https://www.scaledagileframework.com/ and click on these things in the diagram to learn more. Only a brief extract is quoted here:
Agile Architecture Touchpoints
SAFe Agile Architecture Principles
Agile Architecture is applicable to all levels of SAFe and is supported by the following principles:
Design emerges.
Architecture is a collaboration.
The bigger the system, the longer the runway.
Build the simplest architecture that can possibly work.
When in doubt, code or model it out.
They build it. They test it.
There is no monopoly on innovation.
Implement architectural flow.
Continuous Architecture
Continuous Architecture builds on Scaled Agile Framework (SAFe) with a focus on architecture for Continuous Delivery.
It follows the Continuous Architecture principles and is complemented by a number of well known tools: e.g. ATAM, Value Chains, Utility Trees, Decision Logs and QFD matrices (ref presentation )
This is architecture in the Continuous Delivery world.
Continuous Architecture principles
Architect products, not just solutions for projects

Architecting products is more efficient than just designing point solutions to projects and focuses the team on its customers.

Focus on Quality Attributes, not on functional requirements.

Quality attribute requirements drive the architecture.

Delay design decisions until they are absolutely necessary.

Design architectures based on facts, not on guesses There is no point in designing and implementing capabilities that may never be used; it is a waste of time and resources.

Architect for change - leverage "the power of small."

Big, monolithic, tightly coupled components are hard to change. instead, leverage small, loosely coupled services

Architect for build, test, and deploy.

Model the organization after the design
Disciplined Agile Delivery
Disciplined Agile Delivery Principles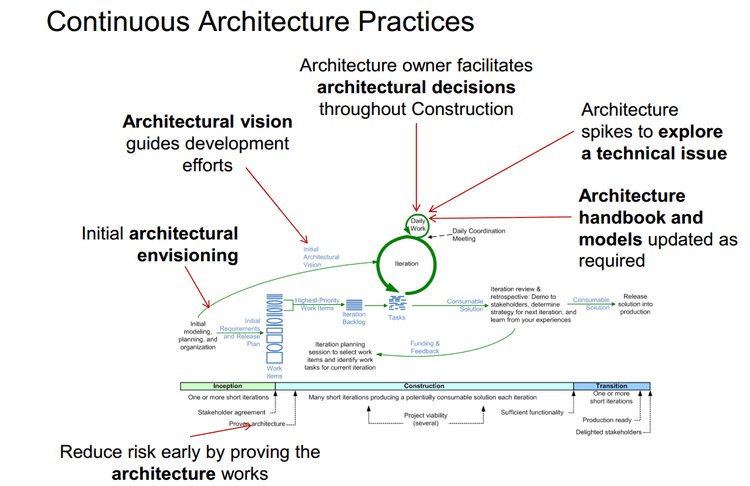 Ref Continuous Architecture and Emergent Design, Scott Ambler (author of DaD)
General Solution Architecture Principles
Architecture owners should understand why
Look beyond technology
Adopt a multi-view approach
Architecture is driven by requirements
Architectures should be loosely coupled
Architectural elements should be highly cohesive
Principles of Agile Solution Architecture
Think about the future, but wait to act
Learn early, learn fast
Simplicity first
Build quality in
Model in an agile manner
Be enterprise aware
What are our principles?
Architect for build, test, and deploy
and quantitative feedback
Views
In the beginning, 4+1 view https://en.wikipedia.org/wiki/4%2B1architecturalview_model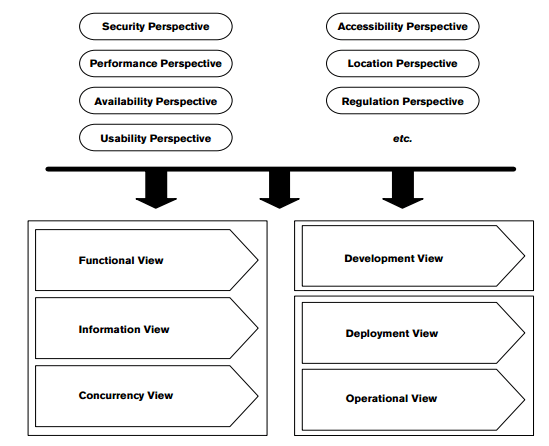 Annex: Development Approaches
See presentation or book for more info